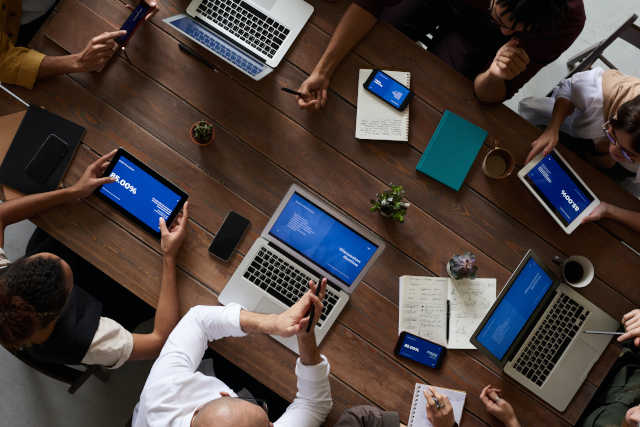 Rapid Digitalization, Mega Trends, and the dramatic impacts of the pandemic on work life have transformed the way we view organizational and human management. Developing a strategic perspective, promptly adapting to innovations, and recognizing the significance of talent acquisition and retention in today's competitive environment have elevated HR management to one of the most crucial corporate functions.
Being deeply ingrained in evolution and directly interacting with the "human" resource places this function at the heart of organizational transformation.
We approach your HR practices analytically and holistically, ensuring quick and effective identification of gaps.
The first step to transforming HR is to assess its current state. We evaluate the maturity of your HR functions, examine your alignment with Global HR metrics, and determine your positioning in relation to industry norms.
How do we approach current state analysis projects?
To understand your current position and provide insights that will influence your organization's future, we holistically review components contributing to organizational development. This includes corporate culture/dynamics, governance structures, role/responsibility distributions, organizational structure, organizational health, workforce efficiency metrics, processes, systems, title structures, HR practices, and more.
We provide support in managing a variety of projects focused on the transformation of HR functions.
Some of our HR consulting services include:
Workforce Planning: Identifying talent and skill gaps; crafting roadmaps for talent retention, acquisition, skill development, and bridging competency gaps with digital and dynamic headcount analysis software solution.
Job Evaluation, Rank – Title and Pay Structure Design
HR Function Healt Check: Maturity analysis of HR processes, comparing current HR metrics with norms, HR practices, and HR development roadmaps. Measuring employee engagement and satisfaction
HR Function Structuring: Enhancing the HR operation/service model and process designs
Current State Analysis: Organizational efficiency analysis, organizational check-up, workforce productivity assessments, title structures, insights, and recommendations regarding role and responsibility distributions.
Organizational Structure Design, Organizational Development
Organizational Development Function Structuring:: OD service model and process design, team building & development, governance structure formulation, know-how transfer.
Measuring Employee Engagement and Satisfaction: Employee Experience Design: Improving HR practices in talent management cycle – from recruitment to exit/retirement (e.g., recruitment, onboarding, pay & benefits, career management, training & development, etc.)
Hybrid Work Model
How Did Human Resources Originate?
The concept of human resources began to take shape in 19th century Europe. Robert Owen and Charles Babbage were among the first to highlight that employee well-being ensures optimal work output and that organizations cannot survive without healthy workers.
The 1890s saw the NCR Corporation establish personnel offices for employee tracking and managing employee relations, thus giving birth to the concept of personnel management which primarily focused on recruitment and evaluations.
With the changing economy due to the Industrial Revolution, new factories, and the creation of new job sectors, business leaders embraced "industrial improvement" and began devising strategies to stabilize the workforce and boost employee loyalty.
During these times, Frederick W. Taylor introduced the Taylorism (Scientific Management Approach), focusing on labor as a primary input in the production process. He emphasized objective approaches to workforce productivity. Consequently, systematic and rational adjustments, grounded in job design, recruitment, placement, and efforts to mitigate the physical and psychological strains of work, led to the birth of "Human Resources Management."
In the 1970s, American businesses began facing challenges due to intensified competitive pressures. Companies experienced globalization, deregulation, and rapid technological changes which prompted larger firms to enhance their strategic planning. This resulted in more opportunities and roles being created for employees to effectively demonstrate their skills in achieving individual, group, and corporate goals.
Over the years, all these approaches collectively evolved into the concept of "human resources," encompassing all activities utilized by companies to maximize the efficiency of their workforce.
What is Human Resources?
Beyond capital, equipment, and materials, the most crucial asset for an organization is its workforce. Humans require distinct management and varied approaches, which is where the HR department comes into play.
Employees need to be recruited, satisfied, motivated, trained, and retained. The Human Resources department is responsible for overseeing these processes.
The Role and Evolution of Human Resources
The HR department is tasked with maximizing employee productivity and shielding the company from potential workforce-related challenges. They bridge the gap between employees and employers, striving to effectively resolve emerging issues from the employees' perspective.
HR responsibilities encompass wages and benefits, recruitment, termination, and ensuring compliance with laws that could impact the company and its employees. They conduct career planning, training needs assessments, motivational activities, and performance evaluations to boost employee motivation, allegiance, and success.
"As the world grapples with challenges such as rising inflation, supply chain disruptions, and a glaring talent gap, HR will be the driving force behind all necessary changes."
While its inception was largely centered on employee record-keeping and adapting to economic shifts, the historical evolution of human resources has transformed it into a multifaceted function intertwined with technological innovations. The days when all employees were uniformly evaluated is now in the past. Recognizing individual differences and tailoring assessments and developmental models accordingly are pivotal facets of modern HR. For instance, addressing contemporary challenges such as "Diversity Management," "Managing Five Generations," "The Great Resignation," and "Burnout Syndrome" are now part of the remit of HR professionals.
HR Consultancy Trends
As the world grapples with challenges such as rising inflation, supply chain disruptions, and a significant talent gap, Human Resources (HR) will be the driving force behind all necessary changes.
Thus, it's crucial for HR to anticipate and prepare for new challenges. The first step in doing this is to have a clear understanding of what awaits the business world in 2024.
1. HR as a Product
To serve their customers better, companies should approach human resource development initiatives as products, not merely projects. This paradigm shift will transform HR's value delivery and lead to a more impactful business contribution.
2. Design-based Collaboration
COVID-19 pushed companies to embrace remote work, leading to employees now demanding flexibility. 77% of the workforce reports increased productivity when working remotely, and 30% can accomplish more in less time. HR must ensure that teams collaborate effectively in this new reality.
3. Talent Market and Acquisition
In the current talent market, companies are not just hiring externally. They must better leverage their existing talents and partner with other companies to broaden their talent pool.
4. Career Experiences
Career advancement has become paramount for many job seekers. Employees want superior career experiences, compelling employers to discover innovative ways to offer them. Focusing on career experiences provides opportunities that enrich an employee's career while broadening organizational competencies.
5. Transformation Management
In these volatile times, if there's one thing we can confidently predict, it's that change is constant. Forward-looking companies operate with a focus on speed and simplicity, enhancing their capacity to learn and innovate. Guiding transformation in all these areas rests with HR.
6. Preparing for Multiple Futures
The future of work is primarily flexible and uncertain. In a world where change is the only constant, companies must be prepared for multiple scenarios and remain agile enough to respond swiftly. HR, being the pulse of the organization, should develop strategies that can adapt to varying processes.
7. HR Technology
Facing the unstoppable digital revolution of the workplace, HR needs to become digitally savvy to harness technology for the benefit of the organization, its employees, and clients.
8. Diversity and Inclusion
In the age of hybrid work, geography and physical distance are becoming less significant, enabling companies to access a more diverse and skilled talent pool. There exists a considerable gap between what is expected of employers concerning values, engagement, and belonging and what they are ready or doing. Balancing this is HR's responsibility.
9. Transition from Workforce Analytics to Data Literacy
Despite its growing influence on HR, the potential of workforce analytics remains largely untapped. HR needs to utilize data more functionally to ultimately enhance job performance.
10. Effective Rewards
The pandemic has fundamentally shifted our perspectives on why we work and what we value in our jobs. Employers need to do more to differentiate themselves and craft an appealing employer brand. HR will be instrumental in helping organizations offer more inclusive value propositions and reward people based on skills rather than just experience.
11. The Talent Economy
It's essential for organizations to accurately map their existing internal skills. Doing so not only benefits employees through better pay and training opportunities but also facilitates job placements suited to specific talents.
HR Consultancy Services and Their Importance
Human Resources is among the most critical corporate functions, shaped with significant effort and investment in developing a strategic perspective, embracing digitalization, and adopting innovations. As this function directly engages with the 'human' element, it requires the ability to swiftly and effectively adapt to changes. HR consultancy has evolved from management consultancy and encompasses HR management tasks and processes. Merging the vast array of services offered by the HR function, from hiring to performance management, with consultancy support focused on process enhancement, makes it possible to manage transformations with people at the core.
HR consultancy, as an external provider, deals with all facets of HR management and associated professional and business concerns (including client development, contracts, and client management). A diverse skill set is utilized in the HR consultancy process. To fully grasp the challenges and inefficiencies in HR and determine their solutions, HR consultancy services—provided by experts in the field—integrate knowledge from IT, accounting, sales, marketing, finance, and, of course, HR management. HR Consultancy benefits organizations of all sizes and types by providing insights into their current status and future structuring.
So, why should companies opt for HR Consultancy services when they already have HR departments in place?
Consultancy services are rooted in seeking the best solutions for maximizing performance, ensuring resource efficiency, managing time, and making the right decisions. Keeping up with trends to offer updated and integrated solutions, benchmarking global and industry-specific practices, conducting comprehensive healt and needs analyses, and guiding with their expertise make HR consultancy services invaluable. These services aid in-house HR departments by supporting process design and enhancement.
Today, HR is no longer just a tactical process. Successful companies now view their HR departments as strategic partners and incorporate HR Consultancy services into their annual plans. Especially in this age of digitization, HR faces larger challenges, making work more exciting, demanding, and perhaps more competitive. Even as operations become digital, it's crucial to center management philosophies around people. This will likely require HR departments to provide information and services to employees more proactively and quickly in the future.
HR Consultancy services, as an external perspective, focus on addressing challenges in managing these innovations. Their primary goal is to elevate HR efficiency to the highest levels.
HR Consultancy Approach:
With a team of experts in the field, the consultancy firm aims to achieve effective results quickly for its clients. Through collaborative work with a company's HR teams, knowledge transfer is facilitated, supporting the growth and development of these teams. In the modern era of business, continuous change and growth in human resource processes are evident. Guided by global trends, companies can evaluate their organizational health, set realistic goals, and optimize processes related to their most valuable assets – their employees.
HR Consultancy Trends for 2024:
The competitive nature of the business world has emphasized the importance of human resources consultancy strategies to pave the way for a successful future. In 2024, HR consultancy firms may focus on:
Remote Working Solutions: Due to the pandemic, the emphasis on remote work has grown. HR consultancies can assist companies in establishing suitable remote work policies and strategies for technological integration and employee engagement.

Use of Artificial Intelligence (AI) in HR: AI and automation are transforming various industries, including HR. Consultancies can offer AI-based solutions in recruitment, performance management, employee engagement, and data analytics.

Diversity, Equality, and Inclusivity (DEI) Initiatives: The importance of DEI is growing daily. Consultancies can assist firms in creating more inclusive hiring processes, training programs, and employee relations strategies.

Employee Health and Psychological Support: Emphasis on employee health and mental well-being is increasing in the modern workplace. Consultancies can guide companies in establishing programs and policies that prioritize employee health and well-being.

Skill and Competence Development: With rapid technological advancements, updating employees' skills and competences is essential. Consultancies can guide firms in competence analysis and development programs.

Data-Driven HR Strategies: HR consultancies can help companies base their decisions on data and information analysis. Data-driven strategies can be suggested in areas like recruitment, employee performance evaluation, and more.

Remote Onboarding and Team Building: As remote work becomes common, consultancies can support companies in improving remote onboarding processes and developing virtual team-building activities.
In 2024, HR consultancy firms can offer various strategies and solutions that provide companies a competitive edge. Consulting services in areas like remote work, AI, DEI initiatives, and employee well-being contribute to the continuous progress of companies towards a successful future. HR consultancies play a pivotal role in assisting companies to manage their most valuable assets, their employees, effectively, ensuring sustainable success in the business world.